October Luncheon with Special Guest Speaker James A. "Jim" DeLapp
October 5
@
12:00 pm
–
1:00 pm
CDT
Executive Director, Public Works
James A. "Jim" DeLapp
Colonel USA, Ret.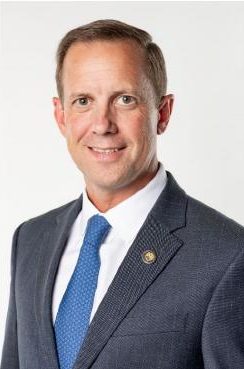 As Executive Director, Jim oversees seven major city departments including Public Services, Engineering, Real Estate and Asset Management, Parks and Recreation, Build Mobile, Programs and Project Management, and the Office of Resiliency. With over 675 employees these departments have a combined budget of $65 million. Mobile Public Works manages over $750 million in engineering, design, project management, construction, and service contracts across the city.
Prior to assuming the role as Executive Director, Jim served as Project Executive in the Federal
Division of B.L. Harbert, International headquartered in Birmingham, AL where he managed
projects throughout the United States.
Previously, Jim served nearly twenty-five years as an Engineer Officer in the United States Army,
with his final duty assignment as the 52nd Commander of the U.S. Army Corps of Engineers
(USACE) Mobile District. During his time in Mobile, Jim led many efforts including the study to
widen and deepen the entrance channel to the Port of Mobile and the $3 billion recovery mission
in Puerto Rico following the devastating Hurricane Maria. Jim also served as the 62nd
Commander of the Nashville District from 2011-2013 and Deputy Commander of the U.S. Army
Corps of Engineers Los Angeles District from 2003-2005.
Some of Jim's other experience includes: Chief of Engineer Plans, United States Central
Command, Tampa, FL; Congressional Fellow to two United States Senators, Washington, D.C.;
and Legislative Assistant to the Chief of Staff of the Army, Pentagon, Washington, D.C. Jim has
served in peacekeeping and combat operations in Bosnia, Kosovo, Iraq and Afghanistan, where
he spent the majority of his time working to rebuild or repair critical infrastructure.
Jim is a graduate of Kansas State University with a Bachelor of Architecture and a graduate of
Texas A&M University with a Master of Science in Construction Management. He also holds a
Master of Strategic Studies from the U.S. Army War College. He is a member of the American
Public Works Association (APWA), the Association of General Contractors (AGC), the Society of
American Military Engineers (SAME) Mobile, Post, the Association of the United States Army
(AUSA), the Army Engineer Association (AEA), and is an active member of the Rotary
International Club. Jim is married to the former Heather Atchison from Chatom, AL, together they
have six children.